I love to build things with my hands and mind.
Influencers
I have been heavily influenced by two people in my passion for making and building. My grandfather and my step-father.
Grandfather Vic Blampey
My grandfather was a career builder – he worked as a carpenter in England before the war, and worked as a builder after emigrating to Australia after the war. My earliest memories of him were visiting him and my grandmother in the house he built for them (the whole thing from the ground up) which had my favourite thing ever: a huge model railroad.
Vic was a huge model railroad fan (HO gauge) and had one whole room dedicated to model railways. It was a big room too – about 3m x 3m – with the whole room dedicated to the railway. There was just enough space to open the door, and then you had to duck under the table and pop-up through one of the access holes/viewing points.
For a young boy like me it was absolute heaven. When we would visit my mother would insist that I wasn't allowed to ask to see the railway as soon as we arrived, so I would wait impatiently until sufficient time had passed for me to be able to blurt out VIC CAN I SEE YOUR RAILWAY NOW?!
Everything in that room he had built from scratch, apart from the track and the running gear. He would build locomotives and rolling stock by hand, and all of the landscapes and buildings – all painstakingly built from wood, paper and cardboard, and hand-painted. After finishing a complete setup he would run trains on it for a few months and then tear down the whole thing and rebuild it in a different design. That passion for him in model railways was in the creating and building.
When he died I inherited all of his rolling stock, the track, and some of the buildings – they're sitting in boxes in my garage. I don't think I'll ever set up a model railway, but some day will build a display case for the rolling stock.
Step-Father Robin Johnson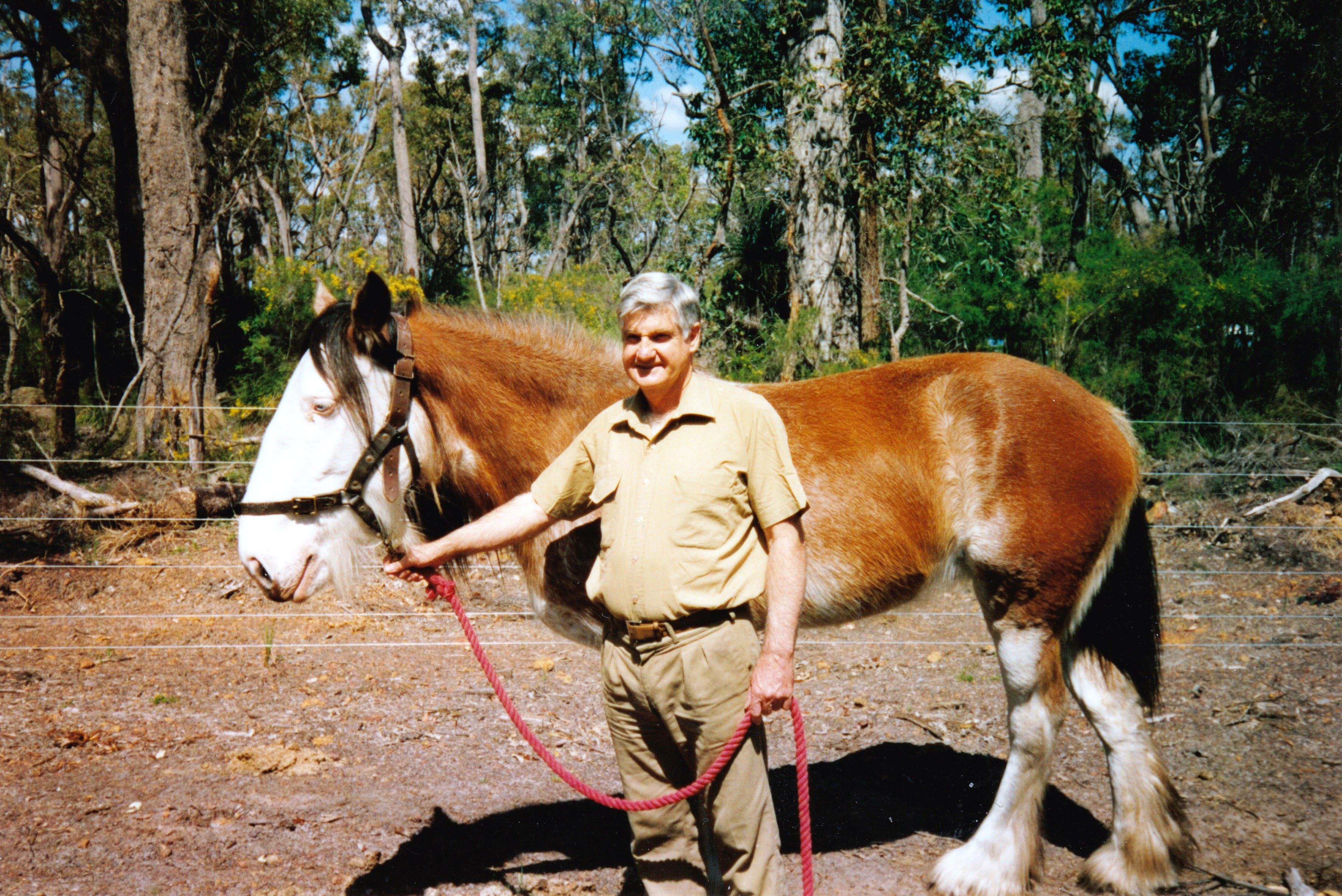 My mother re-married when I was 10 to a man who became my step-father and gave me the surname Johnson. Robin was a manual-arts teacher (woodwork and metalwork) and taught me all of my woodworking skills that I use today1.
I spent a lot of time helping Robin in the workshop at school – I was an extra pair of hands that held things in place while Robin worked on them, or I would be on the outfeed table to guide things as they exited the table saw or thickness planer. I learned a lot of things by watching Robin do them, and built an extensive vocabulary for woodworking by talking to him about what he was doing. I would also accompany him a few times a week to the hardware store and spent hours browsing the shelves and figuring out what everything was for while he chatted to the blokes behind the counter. This time spent in hardware stores made it easy for me to get a job at Bunnings when I was a student.
Robin and I also built a house together in Donnybrook, Western Australia. After the slab was poured we bolted the steel frame together, framed up all the of walls in structural jarrah, plastered all the walls and installed all the door and window trims. To save money I was also assigned to be a labourer for the plumber and electrician when they were working. That was a fantastic experience to go through in my mid-teens, and I learned a lot. Those are the skills that made it easy for me to build the cubby house for my kids.
When I was in high school I used the workshop at school to make furniture for myself, friends and sometimes to sell. I always intended and expected that I would have a workshop of my own when I had my own house, and thankfully that has come true.
Virtual Making
The other way I express the need to make and build is by creating software. I did that as a career for a long time, but even when my professional life hasn't involved writing software I've tinkered with software in my spare time.
He also inadvertently gave me the domain name for this site: Sprangles. It was his nickname at school (the students would call him Sprangles) and when I started at the same school I immediately became Sprangles Junior. ↩